Reverb VIII


monday 8th October 2018


The Arts Centre, Edge Hill University, Ormskirk, L39 4QP
sOLOMIYA mOROZ

in collaboration with Ilona Krawczyk & Colin Frank

Solomiya Moroz is a Canadian-Ukrainian musician, pursuing a PhD in music composition at the University of Huddersfield. She has a Master's in Live Electronics from Conservatory of Amsterdam where she became engaged with hybrid forms of sound in electronic and instrumental music as well as media arts. Her work tends to progress towards the expansion of music specific medium and the role of the musicians within them. She has participated in Takt Berlin Artists residency, Omi International Musicians residency in New York, and Banff Centre Creative residency. In addition she has performed and presented her music in Canada, UK, US, and Europe. Her projects and research have been supported by Canada Council for the Arts and Fonds Québécois de la Recherche sur la Société et Culture.

Ilona Krawczyk

is a performer, singer, teacher and researcher. Currently, as a PhD student at the University of Huddersfield she is exploring the concept of 'Embodied Voice' in singing, thanks to the North of England Consortium for Arts and Humanities studentship. Since 2008 Ilona has been working as a freelance artist in various artistic projects, collaborating with Grotowski Institute (Poland), Musical Theatre CAPITOL (Poland), Anna Zubrzycki Studio (Poland), Brave Festival (Poland), SheWolf Company (UK), and Mechanical Animal Corporation (UK). Ilona graduated from Manchester Metropolitan University (MA in Acting), the course run jointly with Song of the Goat Theatre. As a singer, Ilona has been exploring techniques of singing and songs from various cultures, such as Sephardic, Yiddish, Bulgarian, Ukrainian, Romanian, Georgian, Corsican, and Persian.

Colin Frank (CAN/UK) experiments with sound, electronics, theatre, and percussive instruments. In attempting to blur delineations between composer, performer, improviser, and technician his practice perpetually mutates: narrowly focusing then sprawling chaotically. He is, however, interested in excess, pushing the body to physical extremes, barely controllable instruments, and rich, raw noises.



Joanne Ashcroft

Joanne Ashcroft has poems published in a variety of magazines and journals including The Wolf and Litter. Her first pamphlet was published by Knives, Forks and Spoons Press. She won the Poetry Wales Purple Moose Prize for poetry in 2013 and her pamphlet Maps and Love Songs for Mina Loy is published by Seren. She is currently a research student at Edge Hill University where she has also taught poetry and fiction. She is interested in poetry in which sound manifests as the dominant textual register. Her own poetry explores how sound aspects of language are intrinsic in poetic compositional processes and how this shapes the resultant poem. Her research explores the work of Geraldine Monk, Bill Griffiths and Maggie O'Sullivan as sound-rich poetry. She organises the Poetry and Poetics Research Group at Edge Hill University.
Claire Dean

Claire Dean's short stories have been widely published and are included in Best British Short Stories 2011, 2014 & 2017 (Salt). Marionettes, Into the Penny Arcade, Bremen and The Unwish are published as chapbooks by Nightjar Press. Her short story collection The Museum of Shadows and Reflections came out with Unsettling Wonder in 2016. Claire's recently joined Edge Hill as a lecturer in Creative Writing.


Powered by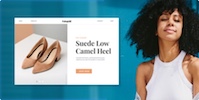 Create your own unique website with customizable templates.